Gregory Jewellers Campbelltown
Establishment and jewelry store at Shop U59 Lv 3, Macarthur Square, Gilchrist Drive, Ambarvale, NSW 2560, Australia. Here you will find detailed information about Gregory Jewellers Campbelltown: address, phone, fax, opening hours, customer reviews, photos, directions and more.
Opening hours
| | |
| --- | --- |
| Sunday | 11:00am — 04:00pm |
| Monday | 09:30am — 05:00pm |
| Tuesday | 09:30am — 05:00pm |
| Wednesday | 09:30am — 05:00pm |
| Thursday | 09:30am — 08:30pm |
| Friday | 09:30am — 05:00pm |
| Saturday | 09:30am — 04:30pm |
Photos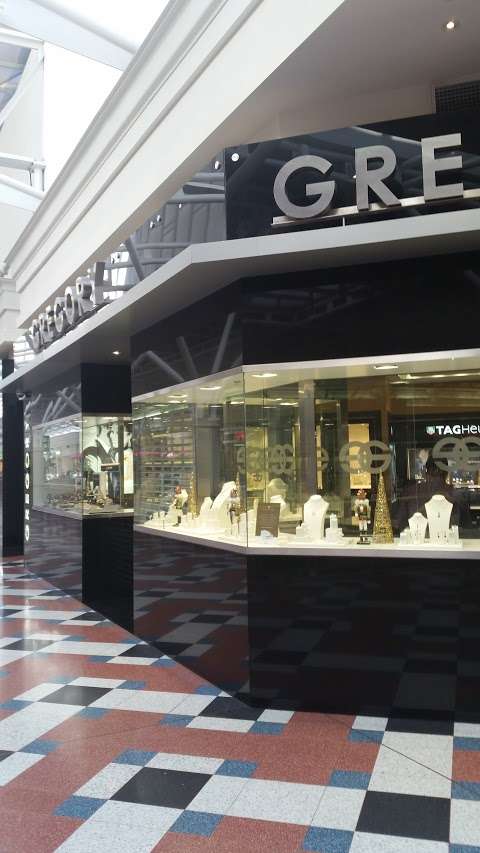 Reviews of Gregory Jewellers Campbelltown
KaylaN Added February 22, 2023

★ ★ ★ ★ ★

Had the most pleasurable experience today with Donna. She was so nice and helpful. We went to 4 different jewellers before coming into Gregory's and their customer service was definitely the best by far! Can't wait to come back for some new jewellery for my upcoming wedding!!

slim Added February 15, 2023

★ ★ ★ ★ ★

I would just like to thank Donna and all the team at Gregory's MacArthur Square. The customer service was A+. They have been with me all through the step of getting an engagement ring, from choosing the diamond all the way to finalising the setting. Donna was very open, transparent and have learned a lot about diamonds and rings from the short time I've dealt with this shop. The most important thing about it was they let you be in control of how you want the ring to look. You can view the diamond before you buy and not just leaving it to an expert to pick. Being me a picky, attention to detail body, they surely accommodated my requests. From every large to minute detail. They even got the main jeweler involved as I wasn't happy initially on how the ring was made but in the end, they made my dream ring come to life. The best thing about this shop was, they were discreet, they won't text or email you if you don't like (keeping that engagement secret), they are patient, understanding, will work within your budget, and won't stop until you are satisfied with the ring. Their communication has been excellent and they stick to their deadlines. They won't leave you on read. As a guy who shopped around before deciding I found this shop the be the best in customer service, communication and value for money. I was very happy with their process. Would highly recommend this shop. Thanks again Donna
Regards
Kim

Angelo Patsalou Added February 06, 2023

★ ★ ★ ★ ★

Could not be happier with the service of Liz. End to end she was on top of everything and nothing was every too difficult for her. She was extremely helpful and only wanted to fulfill the requirements we needed in a timely manner, as well as answering all our questions. I would gladly come back if this is the standard of service that is held by Gregory's!

Daniella Badal Added February 06, 2023

★ ★ ★ ★ ★

I would just like to say a BIG thank you to Dana! and of course to the rest of the team at Gregory Jewellers MacArthur Square. Dana went out of way to ensure all my requirements were fulfilled when finding a beautiful piece. Overall I had an amazing experience and I definitely will be back as the girls went above and beyond with their customer service and assistance! I highly recommend Dana and the rest of the staff at Gregory Jewellers Campbelltown.

Ebony Tiltins Added January 31, 2023

★ ★ ★ ★ ★

Impressed with friendly and helpful staff who assisted myself and my partner with choosing the right jewellery for our wedding day. Donna was amazing with providing various options to us both (necklaces , earrings, bracelets and watches) and allowing us to try on different pieces to ensure they suited us, she was informative to answer all questions we asked and was also very kind / patient with my 6 year old daughter who was shopping with us. All the jewellery was beautiful, affordable and durable.
Questions & Answers
1. What is the phone number for Gregory Jewellers Campbelltown
The phone number for Gregory Jewellers Campbelltown is +61 2 4628 4141.
2. Where is Gregory Jewellers Campbelltown located?
Gregory Jewellers Campbelltown is located at Shop U59 Lv 3, Macarthur Square, Gilchrist Drive Ambarvale, NSW 2560.
3. Is there a primary contact for Gregory Jewellers Campbelltown
You can contact Gregory Jewellers Campbelltown by phone using number +61 2 4628 4141.
4. What is the web address (URL) for Gregory Jewellers Campbelltown
The website for Gregory Jewellers Campbelltown is gregoryjewellers.com.au.
About gregoryjewellers.com.au
Gregory Jewellers - Home
A tradition of style & innovation since 1967. Proudly an Australian owned, and family operated business in its third generation
Gregory Jewellers, Gregory, Tycoon Cut, engagement rings, weddings bands, wedding rings, gucci, bell & ross, IWC, Dior, GC, Cartier, Oris, Rado, Tag Heuer, Tissot, TW Steel, Longines, Jaeger-LeCoultre, Breitling, Baume & Mercier, Gregory Jewellers Bankstown, regory Jewellers Hornsby, Gregory Jewellers Penrith, Gregory Jewellers Bondi Junction, Gregory Jewellers Sydney, Gregory Jewellers Castle Hill, Gregory Jewellers Parramatta, Gregory Jewellers Blacktown, Gregory Jewellers Chatswood, Gregory Jewellers B
Share this page
Additional actions
Today's weather in Ambarvale NSW
13:00
21 ℃ 1025 hPa 72 % 6 m/s 16:00
21 ℃ 1026 hPa 66 % 5 m/s 19:00
19 ℃ 1028 hPa 67 % 3 m/s 22:00
18 ℃ 1029 hPa 78 % 3 m/s
Tomorrow's weather in Ambarvale NSW
01:00
18 ℃ 1028 hPa 69 % 3 m/s 04:00
18 ℃ 1028 hPa 69 % 3 m/s 07:00
18 ℃ 1029 hPa 64 % 2 m/s 10:00
20 ℃ 1029 hPa 58 % 3 m/s 13:00
21 ℃ 1027 hPa 56 % 3 m/s 16:00
20 ℃ 1025 hPa 60 % 3 m/s 19:00
18 ℃ 1026 hPa 70 % 2 m/s 22:00
18 ℃ 1026 hPa 73 % 1 m/s